I have totally and utterly ignored the Photoshop and Illustrator pen tools. There was no need to make my life miserable trying to attempt using them! That all changed once I started to design. I would then look at the pen tool and admire people who could use it. No tutorial I ever took helped me understand it and I would just get more and more frustrated with it and give up.
.
This has now ALL changed, thanks to a tutorial I stumbled upon quite by accident. This has REVOLUTIONIZED my use of Photoshop and I thought I would share it with everyone, just in case there was anyone else out there like me! The tutorial is called, "Photoshop's Pen Tool: The Comprehensive Guide" and it's title is SO accurate! By the time you finish this quick tutorial you will be able to use the Pen Tool – you'll still need lots of practice, but it will MAKE SENSE!!!
.
OK, so here is a screen shot of the tutorial. It's basically a Photoshop file (so you'll need Photoshop to run it) and when you open it you'll need to zoom in closer so you can see the first letter clearly.

It should look something like this. As you can see, it takes you step by step through how to create the letter P using the pen tool. You follow the directions and you'll be able to do it super fast! It took me around 30 minutes. Once you do all the letters a few times, try clicking the instruction off and try doing it with just the coloured dot markers to help you. Then, try to do it without any markers! You'll be amazed how fast you pick it up!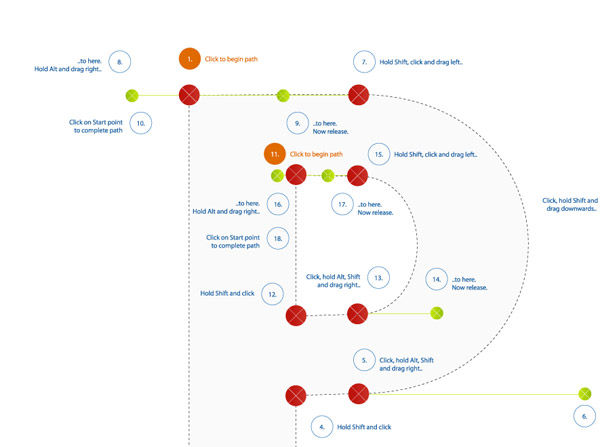 If you're interested, head over to the tutorial site HERE and download it. You won't be sorry! You will need Photoshop to use it. I should also mention that after you have tried out the Photoshop Exercise File, head back to the website as the author has included a LOT more information regarding the pen tool after the download – this will be most useful for you when you done the tutorial exercise file first!

There is also a similar tutorial for Illustrator HERE by the same author and is very similar to this tutorial, except designed for Illustrator. The way the pen tool works in Photoshop and Illustrator is apparently slightly different. This is lost on me as I'm still learning how to use them!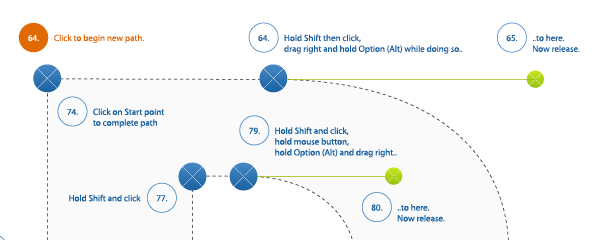 If you found the above tutorials useful, you may also find the "Illustrator Pen Tool Exercises" from Veerle's Blog interesting. Very similar type exercises designed for Illustrator.

Well, that's it from me today. Hope it was helpful!
Have a great weekend everyone!
Dodie
x