I have finally finished my Jessica Sprague Certified Digital Designer course – exam done and portfolio submitted and returned with great feedback! Woot!
During the course I had to decide if I was going to stick with my boring design name, "Dodie's Designs" or pick something more fun. It took me a few months and I just couldn't come up with a name I liked. Finally I gave up and figured I'd leave it as is.
But it kept nagging at me, especially as I was about to switch servers and wanted to pick a domain name that fit my design name. After a little more thought, and numerous pages of potential design names written in lists upon lists, one name kept coming back to me. And then one day I thought, "I like that design name!". May seem simple, but trust me, when you're waiting for something to click, it's a nice thought!
So, I submitted it with my portfolio to Carina Gardner and thought I'd wait to hear back from her before making anything permanent. I heard back from her last week with my portfolio and in her words, she thought my design name was, "Stickin' Cute!". Whew! Infact, it was a huge 'Whew' because I had already paid for a new domain name, www.alittlegiggledesigns.com – yup – that's my new design name, "A Little Giggle Designs".
I think it reflects what I am and what I strive to be as a designer. I'm only beginning and may never make it as I am simply too busy… but I have a goal and will work towards it slowly – a design name I like is the first step.
Anyway, here's my new logo, which I'm not 100% sure on – but it'll do for now…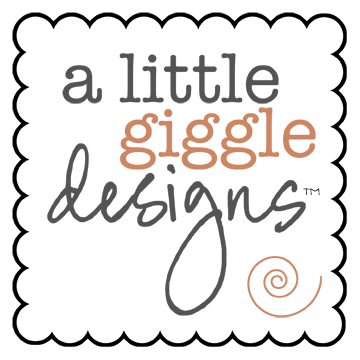 Hope you like it! And wish me luck in the world of designing!
Dodie
x