Congratulations to the five winners of my Blog Train RAK! You have won my full kit, 'Scrap n Stuff' shown below. This full kit coordinates with the freebie that was posted on my blog train, so if you haven't picked it up yet, you'll want to do that by clicking HERE!

If you are one of the 5 winners and haven't downloaded it yet, drop me an email and I'll send you the links.
.
But don't worry if you're not a winner… I have a challenge!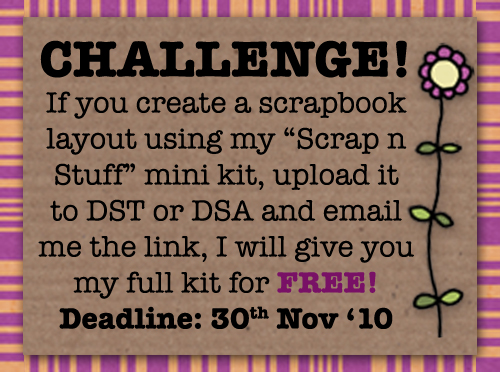 If you would like to win the kit, all you have to do it grab my mini kit, make a layout with it, post it at DST and drop me an email with the link. You'll get the full kit for free! The deadline for this is the 30th November '10. Enjoy!
You can grab the mini kit HERE or by clicking on the mini kit preview below.
Thanks again for playing! I hope you enjoy using the kit =)
Dodie
x