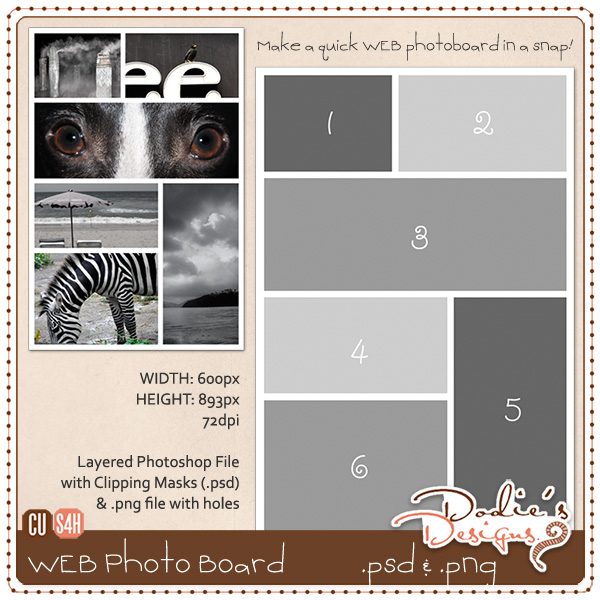 I made a "Photo Inspiration Board". So, you may be wondering what on earth is a "Photo Inspiration Board" – well, it's a template for you to pop your favourite photos into and display on your blog quickly and easily.
I wanted to post a few of my favourite black and white photos, but didn't want to post them all one-by-one – I generally think this looks messy. I remember seeing the idea of a collage of photos on other blogs and decided to give it a go. After I finished it, I thought it might be fun to offer it up as a freebie incase anyone else wants to do the same on their blog.
So, here it is! My first "Photo Inspiration Board" ready to be used. How? Keep reading!
I have included the Photoshop layered file with clipping masks and an optional shadow. If you use the shadow (optional) it will be 600px X 893px in size. As it's for a blog, it's 72dpi, which is the correct resolution for the web. If you would like to use it on your scrapbooking layouts, I would suggest changing the resolution to 300dpi.
If you don't have Photoshop, don't worry! I've also included two .png files – one with a shadow and one without. These are not as quick as using clipping masks, but they'll get the job done: simply slot your photos behind each photo opening in the template.
Ok, enough talking – let's get onto the template!
(I numbered it – that means there will be more in the future *lol*)
Hope you enjoy using it as much as I did! If you want to see my post using this inpsiration board, CLICK HERE. If you have any suggestions, please let me know. I love feedback (and of course you make my day with your comments!).
Enjoy!
Dodie
x