I love my art. There are no two ways about it – I love it! And when I say "My Art" I'm not talking about the things I personally paint – don't think I would actually consider that art… yet! But I'm talking about the art I have chosen to hang on my walls – one in my hallway as you walk in the front door and one in the living room above my couch. The colours of the paintings work, the design is just me, and they are HUGE!
I had an idea of what I wanted (while I left my walls bare for a year!). I had originally decided to do it myself, but just never got around to it. My dad went to China (I live in Hong Kong) and while he was there he saw a few paintings that he liked and thought one of us kids would like for our homes. When he got back to HK I didn't think anything he had chosen would be close to what I had in mind – but unbelievably they were EXACTLY what I wanted! Colours, style, size – everything!
Now I know they are not everyone's taste, but they are just perfect for me and I can't get over how perfect they are and how my dad bought them for me sight unseen.
So, as every scrapbooker does (or should do =) – we scrapbook the things we love – and I love my art! So here's my layout on my living room painting. Love it! (did I mention that yet *lol*).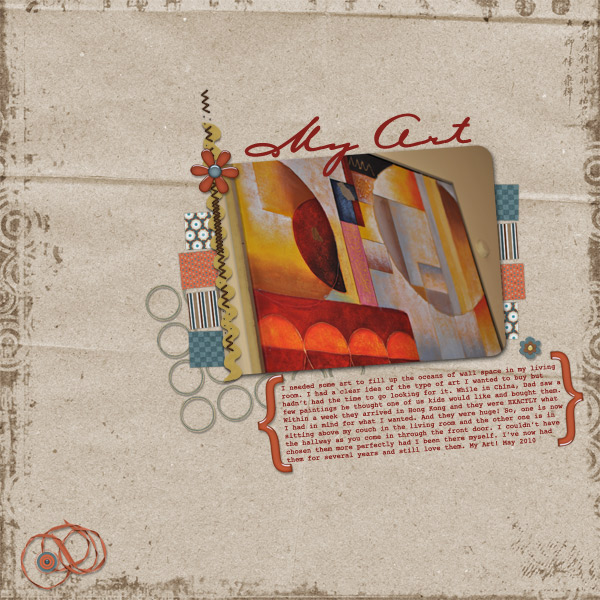 Credits: 'These Days' kit by Captivated Visions. Fonts: Carpenter and Courier. Great kit and so easy to use!
Enjoy
Dodie
x