I am in a fantastic class over at Big Picture Scrapbooking called Everyday Adventures with Tami M. Loving it!
I've decided to do this class digitally and my first assignment was to make a list of 10 things "Right Where You Are"… and I was "At My Desk" – thus was born a layout about my desk. Now, I wanted a funky way to do the list, do I doodled some numbers to make my list. You know where this is going, right?
I have a freebie! It's a set of doodled numbers AND a set of lists. They all come as .png files and .abr brush files for Photoshop/Photoshop Elements users. The lists come as numbers only, numbers and short lines and numbers and long lines. To spice things up, there's a regular set of lists AND a grunge set of lists. Ok, so you get the idea! Hope you're still with me *lol*.
Everything is the usual 300dpi, large brush files etc. and I've decided to make it CU friendly! I've been playing around and think I may just have to make a freebie of the numbers with funky patterned paper filling them! We'll see.
Anyway, I'd love a comment, but no worries if not. If you have any feedback, please let me know – I'm just getting my feet wet with designing now that I have more time and would love to know what works, what doesn't, and if you have any suggestions!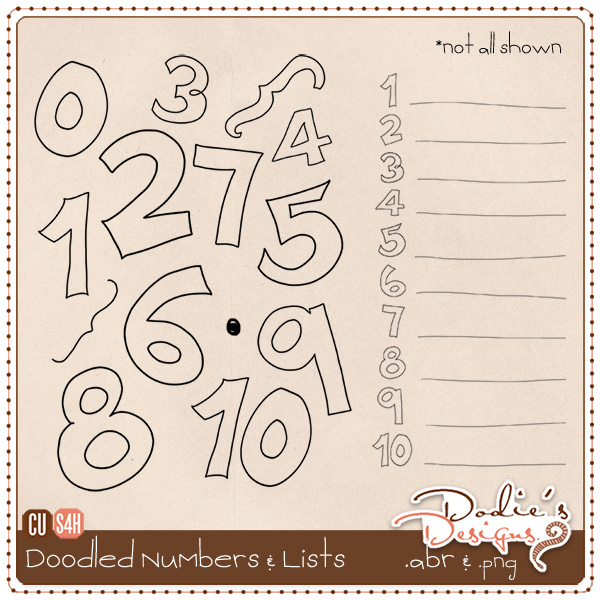 Click here to download "Doodled Numbers and Lists" or click on the preview!
EDITED: Just realized that I did this set at 300 pixels/cm – it should be 300 pixels/inch. I've resized them so what you're getting is the normal 300 pixels/inch; however, if you would like the super high quality version (300 pixels/cm), you can grab them by CLICKING HERE! If you would like the regular quality ones (recommended), click the link above or click on the preview.

Enjoy!
Dodie
x
P.S. I've just started to Twitter and would love more followers! I'll announce new blog freebies via Twitter so you can keep up to date with them without having to come here to check. Oh, and it's FUN! CLICK HERE TO FOLLOW ME! (or click the super cute twitter guy on the right).
Did I mention you can now also TWEET this post – I finally figured out how to add tweet thingys at the top of each post! I hope I've done it correctly =) I think you can also click the button at the bottom of the post. Hmm…. this could get confusing!
Anyway, off to sleep. It's 12:34am and I have to be up early for work tomorrow. Nite e'one!
P.S. I've just posted a few extra doodled lists HERE! There's a quick preview below. Enjoy!